Truck Insurance Baton Rouge
Truck Insurance Baton Rouge – Acquire Better Rates Today!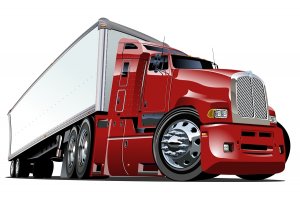 Do you own a business in Baton Rouge or the surrounding areas that requires the use of commercial trucks, such as a towing company, sand and gravel hauling company, livery service, trucking and transportation company, logging company, or any other business employing the use of trucks?
If so, then no matter what kind of trucking insurance you need, a great place to find better rates and coverage for Commercial Auto Insurance in Baton Rouge is the office of Jeff Davis Insurance.
You can reach Jeff Davis Insurance toll-free by dialing 337-824-4455 every Monday through Friday.
If you would like to request a free quote online, click on one of the links supplied below to access and  fill out our online quote form.
Baton Rouge Truck Insurance – Coverage Scenario Part 11
In last week's blog post entry, we went over the details of the damage to Buford's tow truck.
To recap, Buford's last-second effort to avoid hitting deer had largely the opposite effect.
The deer destroyed much of the front, passenger-side corner of the truck and the windshield.
Additionally, the entire driver's side of the vehicle has been scraped down to the bare metal as a result of tipping over onto its side and skidding along the ground.
Meanwhile, back at the headquarters of Slick Rick's Quick Towing, the owner, Rick, receives a phone call.
The call is from a customer who had called to have their car towed. The customer is calling because he has been waiting for over an hour and no one has showed up to pull him out of the ditch he's in.
Rick apologizes and quickly arranges to have another tow truck driver take care of the situation.
Before Rick has time to wonder why Buford did not make it to the scene, his phone rings again.
This time, it's from the police.
The police officer informs Rick about the car accident, lets him know that Buford is on his way to the hospital but should be okay, and fills him in on the damage to the tow truck.
Rick is happy to hear that Buford is alright, but, naturally, he's not thrilled to hear about the shape his tow truck is in.
Rick thanks the officer, hangs up, and dials the number for his insurance company.
Next time, Rick files a claim with his insurance company. What will happen? Find out next time.
Commercial Truck Insurance Baton Rouge – Improved Coverage and Better Rates!
Want to improve your coverage and/or receive better rates on Baton Rouge Commercial Truck Insurance?
If so, do not hesitate to call us up at 337-824-4455 during business hours.
And remember, you can access our online quote request form any time when you select one of the options listed here:
Tags:
Baton Rouge Commercial Truck Insurance
,
Baton Rouge Truck Insurance
,
Baton RougeTruck Insurance
,
Business Auto Insurance Baton Rouge
,
Commercial Auto Insurance in Baton Rouge
,
Commercial Auto Insurance Rayne La
,
Commercial Truck Insurance Baton Rouge
,
Jeff Davis Insurance
,
Oakdale La Trucking Insurance
,
Truck Insurance Louisiana
,
Truck InsuranceBreaux Bridge La
,
Youngsville La Commercial Auto Insurance
Jeff Davis Insurance
1010 N Lake Arthur Ave
Jennings, LA 70546